Game Description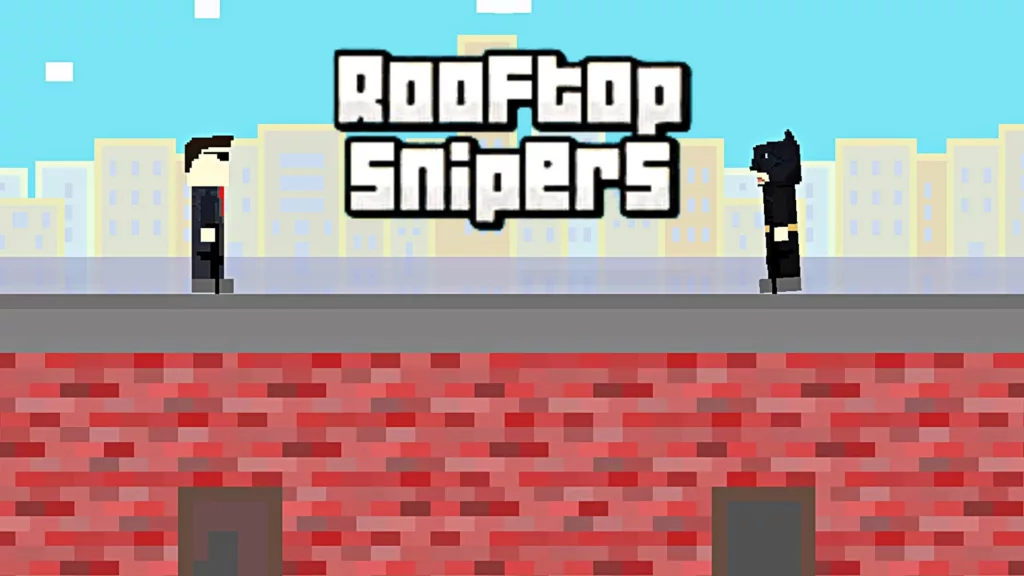 First and foremost, Rooftop Snipers is a fast-paced and minimalist shooting game that pits two players against each other on precarious rooftops. The objective is simple: be the first to score five hits on your opponent. The challenge lies in the unpredictable physics and quirky character movements, making every match a wild and unpredictable shootout.
Game Controls
Before you jump into the intense battles, it's essential to familiarize yourself with the game controls.
Player 1 utilizes the 'E' key to jump and the 'W' key to shoot.
Player 2 employs 'I' for jumping and 'O' for shooting.
How to Play Rooftop Snipers
So, how do you actually play Rooftop Snipers? Here's a step-by-step guide to help you understand the mechanics:
Character Selection: To kick things off, each player chooses their character. The characters have unique physics and characteristics, so select one that suits your playstyle.
Rooftop Duels: Once your characters are chosen, you and your opponent are placed on a rooftop. Your mission is to eliminate the other player while avoiding getting knocked off the rooftop.
Precision Shooting: The name of the game is accurate shooting. Take aim and fire at your opponent using your designated shooting key. You'll need to land five successful hits to secure your victory.
Dynamic Environment: Be prepared for the rooftop's unpredictable physics. You'll need to adapt to sudden movements and use them to your advantage.
Strategy: Developing strategies for shooting, dodging, and jumping is crucial. You'll need to outmaneuver your opponent to emerge victorious.
Quick Rounds: Rooftop Snipers matches are fast and intense, so stay focused and react swiftly.
Tips and Tricks
To excel at Rooftop Snipers, consider these tips and tricks:
Master Character Movement: Each character has a unique playstyle. Experiment with different characters to find your favorite.
Predict Physics: Use the rooftop's physics to your advantage. Whether it's to jump over incoming shots or to land a tricky hit, understanding and predicting these physics is essential.
Aim for the Head: Headshots do more damage, so aim for the head when possible.
Use Obstacles: The various obstacles on the rooftops can be used for cover. Strategically position yourself to avoid incoming shots.
Stay Nimble: Don't stay in one spot for too long. Constantly move and jump to make yourself a challenging target.
Game Developer
Rooftop Snipers is developed by Michael Eichler, an indie game developer. The game's simple yet addictive concept has made it a popular choice for quick and entertaining duels.
Game Platforms
Download the game on iOS and Android devices to play on the go.
How to Play Unblocked
Now, let's explore how you can play Rooftop Snipers unblocked.
Use a Trusted Website: First, you should visit a reputable website that hosts Rooftop Snipers, ensuring it's not blocked by your network.
Bypass Filters: In case you're in a restricted network, you may need to use a Virtual Private Network (VPN) to access the game.
Browser Extensions: Some browser extensions can help you access blocked websites. Be sure to use them responsibly and follow any legal and ethical guidelines.
In conclusion, Rooftop Snipers offers a thrilling and unpredictable rooftop duel for players seeking a quick and engaging showdown. Master the controls, apply the provided tips and tricks, and enjoy the quirky physics of the game while playing on supported platforms or unblocking it using safe and responsible methods.